:::: When Caroline from Sprout Patterns wrote me asking if I was interested in trying their service I did a little happy dorky dance in front of my computer and replied with a very enthusiastic yessss!
By now, I think only very few people, sewing people, do not know what Sprout Patterns does. They print on demand sewing patterns directly on Spoonflower fabric. If you're one of those few, take a look here and here.
If you followed my blog so far you know most of the times I modify my garments in someway and I'm a little fitting obsessed. I'm guessing you're probably wondering how would I be happy with a pattern printed straight to size with very little room for adjustments, just the seam allowance. I wouldn't unless it were so good it didn't require modifying or fitting… and the Archer Button Up is a very good shirt pattern! Furthermore, if you're a reader of this little blog of mine you might have also guessed that I love button up shirts. What I'm sure you don't know is that I love my shirts quirky, colourful and fun. That's because I never made one. The fabric shops around here do not carry quirky, colourful and fun cotton fabrics in shirting weights. Their stock is pretty stale: mostly solids, all kinds of pinstripes, barrés, chambrays and oxfords. Yeah, beautiful traditional fabrics… mostly men's.
Now, isn't the Archer the perfect pattern to make a quirky, colourful, fun button-up shirt? It is!
So I dove into the Spoonflower database searching for edgy and cool, thinking that in the very unlikely event I didn't find what I was looking for, I could design it myself. At first I must admit I was a bit overwhelmed - there are soooooo many designs! Then I started having fun collecting designs, combining them, trying them out in the 3D preview window and generally having a very hard time deciding. So many beautiful possibilities! And then I found it: bacon and eggs! I loved the idea, hated the bacon. For my taste and for the shirt I was imagining, the colour of the bacon was just too strong, too much contrast. I sent a message to the designer, a very nice girl named Anya asking if it were possible to edit the design, remove the bacon and make it a little more abstract. She replied right away and shortly after she sent me a link to the modified design. It was perfect! Isn't this whole thing just beautiful?! I mean being able to interact with the people involved in the making of a garment!
When my fabric got here I was so excited I showed it to everyone, I revelled in the puzzled look on may man's face thinking he doesn't know technology like I do ;) … took a quick snap: ::Quando Caroline di Sprout Patterns mi ha chiesto se ero interessata a provare la loro piattaforma, dalla gioia ho fatto come minimo un paio di capriole. La Sprout Patterns offre la possibilità di stampare i cartamodelli direttamente sui tessuti custom della Spoonflower. In pratica dopo essersi registrati gratuitamente sul sito, si può scegliere un cartamodello, la taglia, il tipo di tessuto e la stampa dal catalogo Spoonflower (il famoso servizio di stampa digitale su tessuto). Si possono persino combinare più disegni in un unico capo; la simulazione 3D oltre che offrire un'anteprima del capo finito assiste anche nel processo di personalizzazione del piazzamento. La Spoonflower stamperà e spedirà il tutto. La copia digitale del cartamodello e le istruzioni per il confezionamento vengono allegate all'ordine. Tutto quello che ti rimane da fare è lavare il tessuto, tagliare lungo le linee e cucire!
Io adoro le camicie e siccome l'offerta un po' stantia di tessuti per la camiceria presente nei negozi della mia zona non mi ha mai fatto esattamente gola, quando mi sono messa a sfogliare il catalogo di Spoonflower sapevo di essere alla ricerca di un qualcosa di colorato, originale e divertente che difficilmente avrei trovato nei negozi. Ed eccolo qua: un design conuova e bacon! Il colore del bacon però, sembrava creasse un po' troppo contrasto. Ho mandato un messaggio alla designer che si chiama Anya e vive in Siberia(!), domandandoli se era possibile editare il disegno e togliere il bacon. Mi ha risposto subito di sì ed entro poco tempo mi ha inviato il link al nuovo disegno!
E se per caso niente tra le decine di migliaia di design della Spoonflower ti piace, puoi caricare un tuo design oppure puoi chiedere alla tua amica illustratrice…quella che ha una barca di talento e viene sottopagata per fare volantini di sagre… quella che si è dovuta aprire la partita iva per lavorare e adesso paga la gestione separata e tasse su rediti immaginati dal fisco…quella!!!
Quando il tessuto è arrivato l'ho buttato in lavatrice e un paio di orette più tardi stavo gia tagliando la camicia!::::
::::…and in the washer it went. A couple of hours later I was cutting.
I sewed it without altering the pattern in any way… I didn't even try it on myself until it was finished. In my opinion the result is: WOW! Judge it for yourselves.::Come modello ho scelto la camicia Archer progettata da Jen, la designer dietro la Grandine Studio di Chicago. E un bel po' che volevo cucire questa camicia. Ho visto tantissime versioni e so che è un cartamodello molto buono. Sapevo che facendolo stampare direttamente sul tessuto non avrei avuto "sorprese". Infatti ho cucito il modello così com'era, nessuna modifica, niente adattamenti, non ho nemmeno provato la camicia finché non l'ho finita e il risultato dal mio punto di vista è: WOW! Giudicate anche voi. ::::
::::Pattern: Archer Button Up by Grainline Studio view A printed by Sprout Patterns (link to project)
Fabric: Cotton Lawn Ultra 100% CO
Size: 2 (ref. measurements 177/84/68/94 cm)
Fitting : none
Mods: none (although I did distribute the buttons differently based on my favourite v-neck)::C.M. : Camicia Archer di Grainline Studio stampata dalla Sprout Patterns (link al progetto) - in inglese
Tessuto: Battista di cotone 100% CO
Taglia: 2 (misure di rif. 177/84/68/94 cm)
Adattamento: nessuno
Modifiche: nessuna (a parte la disposizione dei bottoni che ho cambiato per farla andare bene con il mio maglioncino con scollo a v preferito)::::
::::The fabric, a cotton lawn is perfect for a summer shirt, bluse or top. It's light and airy.
Because the system didn't allow me to select just one pattern piece to place on another print (in the case of the Archer you can only select the body, the yoke and all the trims as one) and I wanted the internal collar stand in a contrast color, I printed from the pdf pattern included with my order just the pages I needed to cut it in another fabric. I did the same to transfer the markings for the placement of the pockets and the cut line for the sleeve vent opening.
Right now, the Sprout Patterns platform seems configured for yardage usage optimisation. What I would love to see, maybe in a future update is more flexibility, a mode that would allow to more precisely pattern match (through pockets and side seams for instance), the possibility to select individual pattern pieces, maybe the option to print some of the internals and why not, to upload your own pattern - that would be all kinds of awesome!::Dato che il sistema non mi consentiva di selezionare solo il listino interno del colletto che volevo a contrasto (si possono selezionare corpo camicia, carré e le finiture in blocco), ho stampato le relative pagine del cartamodello e l'ho tagliato separatamente in un popeline di cotone di colore azzurro. Ho fatto lo stesso per trasferire le marche per il posizionamento delle tasche e la linea di taglio per lo spacco manica. Spero una futura evoluzione del sistema permetta di scegliere le singole parti, per poter anche fare meglio combaciare il disegno (nelle tasche per esempio) e se si desidera o meno, stampare le linee interne. Così com'é adesso la piattaforma è configurata per ottimizzare l'utilizzo del tessuto. Penso sarebbe carina un'opzione "flessibilità". ::::
::::Sunday is that blessed day when I get to sleep in so around noon we went for brunch at a lovely place called Osteria San Michele in Fagagna. Now you're thinking "she ordered eggs and bacon". The breakfast theme, right? Nope! Plenty of eggs on my shirt already and when you are ten minutes away from San Daniele you don't eat bacon... you eat prosciutto, Prosciutto di San Daniele …. and lots of others delicious local foods that I didn't photograph because I'm not a foodie. I did take one million pictures or so of my new favorite shirt though ;)::Visto che la domenica è quel giorno benedetto nel quale posso dormire fin quando mi piace e pare, verso le undici passate siamo andati a prendere l'aperitivo (brunch suona snob nell'entroterra friulano) a Fagagna in un posto incantevole chiamato Osteria San Michele. Ottimo crudo, ottima birra artigianale alla spina. Abbiamo fatto un milione di foto con la gente e il personale che ci guardava con le sopracciglia alzate …beh, sempre qui, nel entroterra friulano, "blogger" è una mezza parolaccia. 😂::::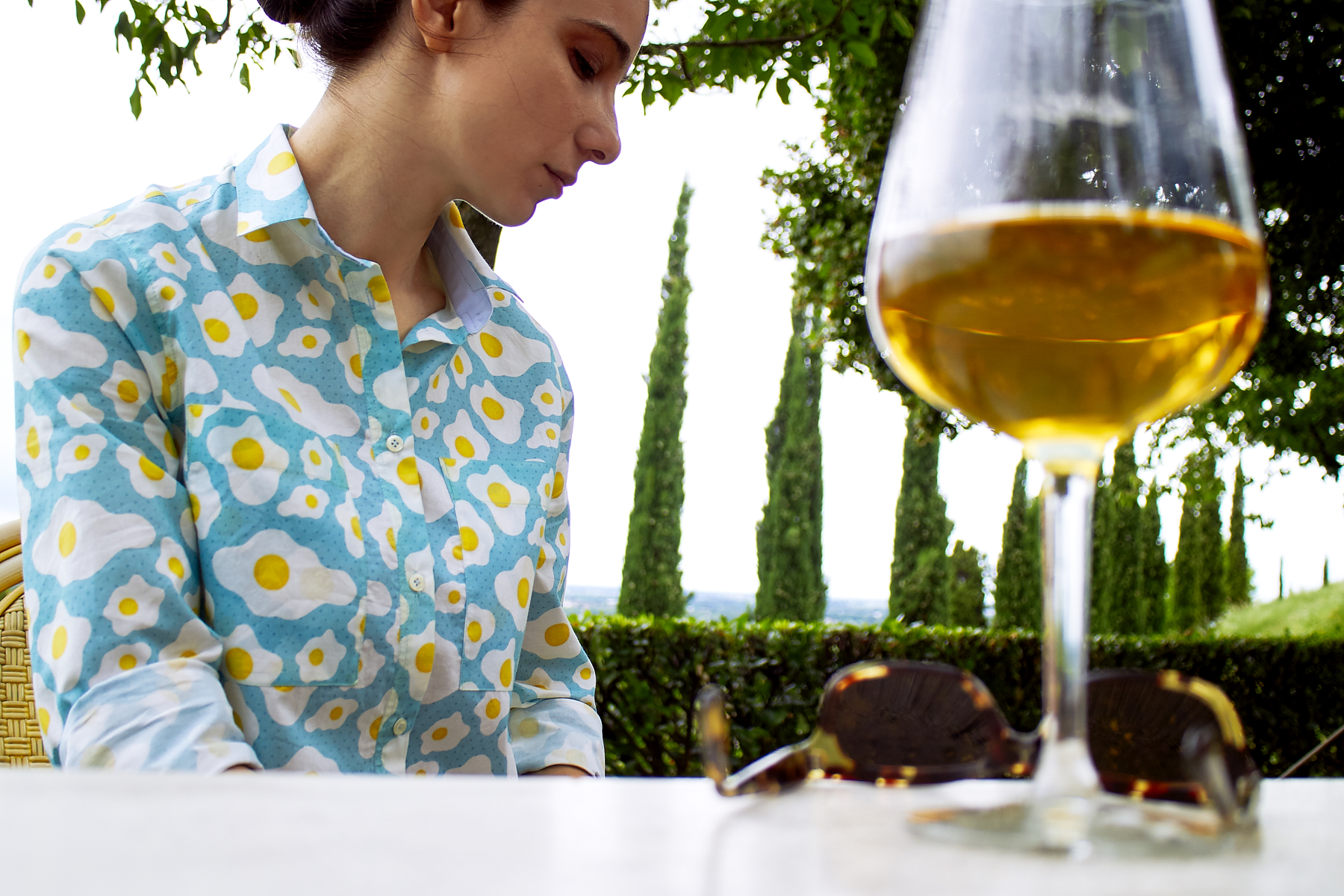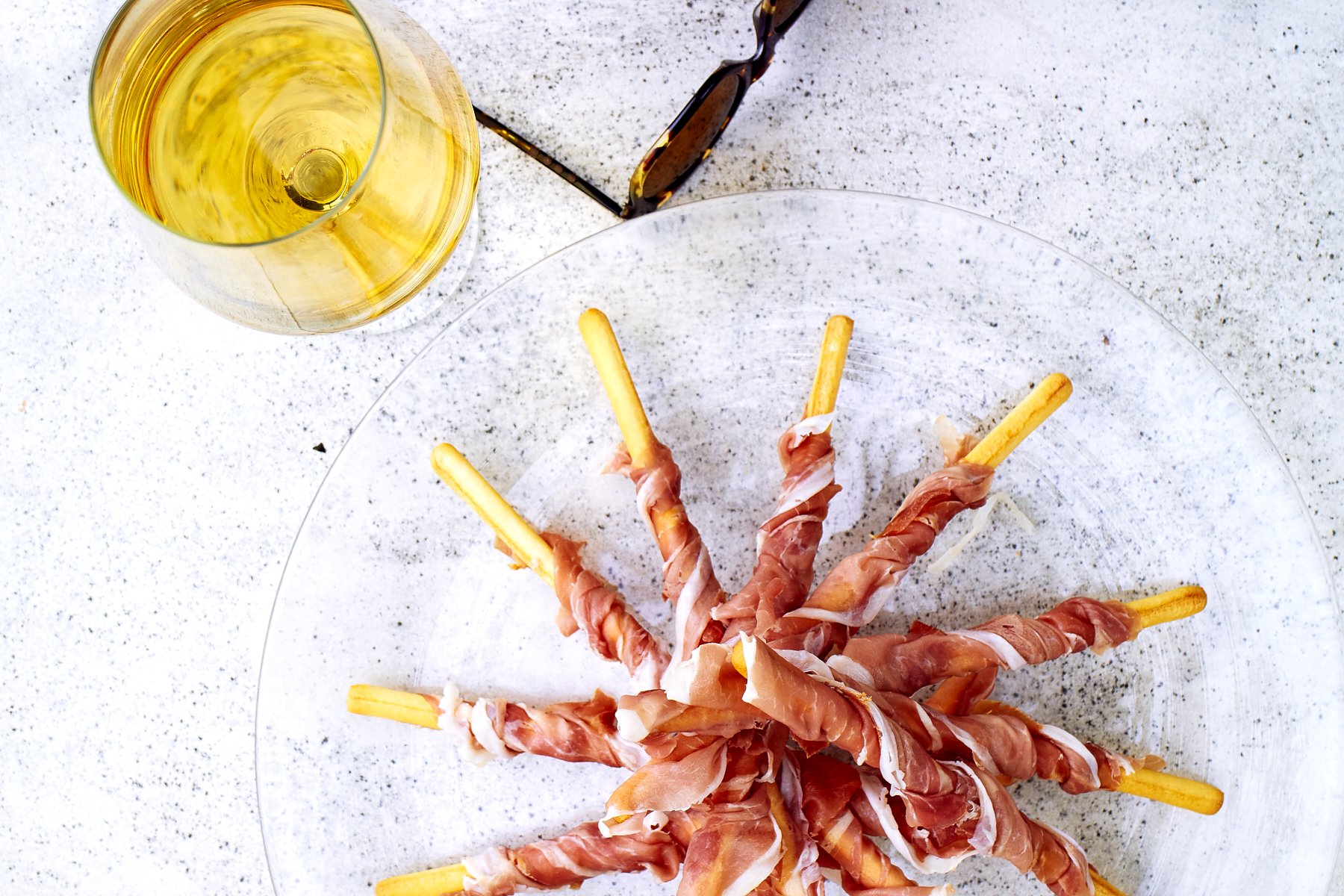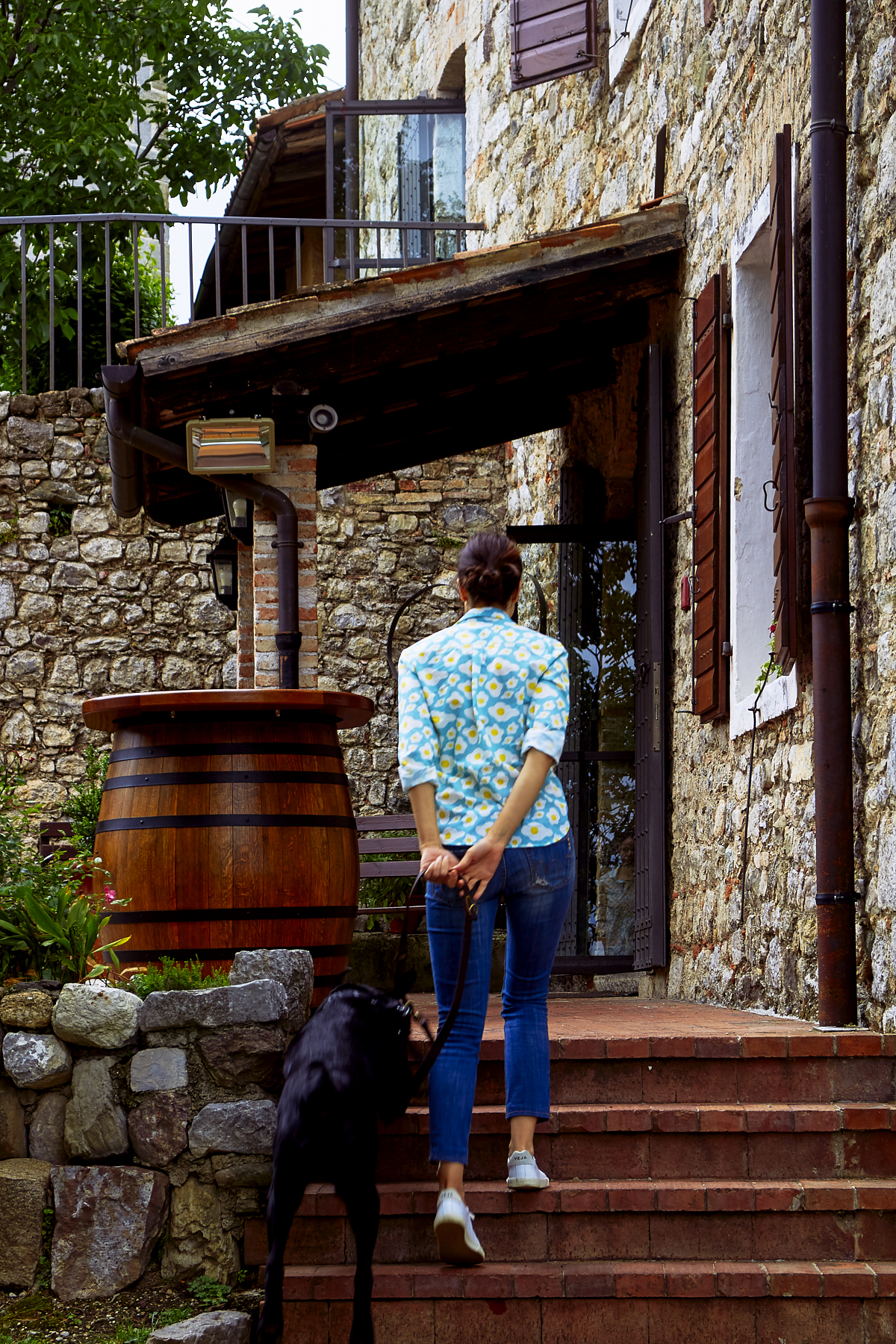 ::::What can I say to sum up my experience with Sprout Patterns… I had lots of fun! I love this shirt and I can see in my future Archers with doxies riding bikes, colourful ice cream cones … flying kittens! Why not?! I can also see them as perfect gifts ;) ::Cosa posso dire dopo quest'esperienza? Mi sono divertita! Mi sono divertita a scegliere e personalizzare il modello e mi sono divertita a cucire la mia nuova camicia. Adesso sto pensando a altre versioni, che ne so… con bassottini che vanno in bici, coloratissimi coni gelato oppure gattini paracadutisti….::::
::::Thank you for visiting. I would love to hear your opinion and if you like it put a <3 on it!:: Grazie della visita. Mi piacerebbe moltissimo sentire la tua opinione e se questo post ti piace mettici un <3!::::